Valentine's Day Dinner Ideas
Whether you're cooking a romantic dinner for two, hosting a fun Galentine's party for your besties, preparing cute, heart-shaped recipes for your family, or treating yourself to a special dinner, these Valentine's Day dinner ideas will bring love to the table.
Valentine's Day Dinner Ideas
There is no better way to celebrate Valentine's Day than with a special meal cooked at home. Whether gourmet sous vide steak is calling your name or you're in the mood for adorable, heart-shaped pizzas, we've got lots of Valentine's Day dinner ideas for you!
Let us know in the comments which Valentine's Day dinner recipe you decide to make!
Valentine's Day Dinner Recipes
These pretty ravioli hearts are stuffed with a delicious combination of roasted beet and goat cheese. Then after they're cooked they're tossed in brown butter, crispy sage, and walnuts. It's a truly heavenly dinner.
And making them is a breeze. Rather than rolling traditional pasta, we use wonton wrappers which taste almost exactly the same as ravioli.
We like to use cookie cutters to cut the wonton wrappers into heart shapes, but you can also use them without cutting them into shapes.
This gorgeous, crimson-colored soup can be served as a starter or the Valentine's main course.
It's a wonderfully creamy soup with gentle Thai flavors and bright, punchy color. If you want your Valentine's Day dinner to look the part, this soup is the way to go.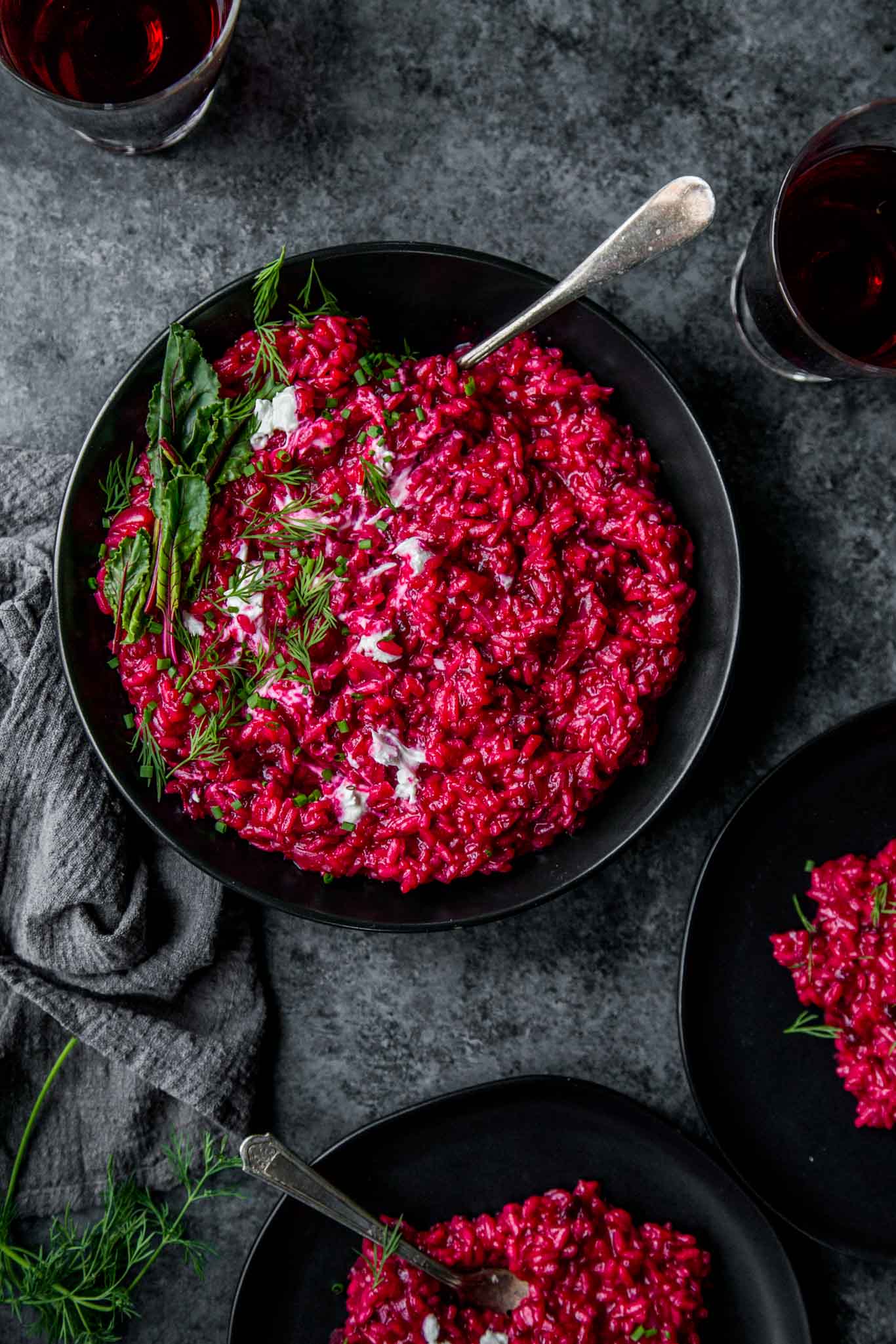 Creamy Beet Risotto with Goat Cheese
View
This pretty pink dinner is perfect for Valentine's Day. The creamy risotto is flavored with beets and goat cheese and topped with a sprinkling of dill.
Pour yourself a glass of wine and cozy up with your Valentine for one beautiful dinner.
Simple Sous Vide Rib Eye Steak Recipe with Basil Garlic Compound Butter
View
Steak is the ultimate Valentine's Day dinner. This one, with its gorgeous crust and its juicy pink center, is a dream come true.
The steak is sous vide, which means that it's cooked in a sealed bag in a water bath. It's a foolproof method for perfectly cooked steak.
And to take cuteness level up, it's served with loveable potato hearts and heart-shaped basil garlic butter.
Oven-Roasted Dungeness Crab
Munchkin Time
View
Crab is a wonderfully decadent and special meal perfect for Valentine' Day.
This Dungeness crab is baked in the oven then served with an incredible garkicky herb butter.
Bonus: it's a suprisingly easy recipe to make!
Pasta and wine come together to for a memorable date-night dinner. The spaghetti is cooked in red wine so the flavor absorbes right to the inside.
Then the drunken spaghetti is tossed in a simple chorizo parmesan sauce with a little black kale.
Pour yourself and your Valentine a big glass of red wine and dig in!
Honey Balsamic and Lemon Brussels Sprout Chicken with Goat Cheese Polenta.
View
Deliciously creamy polenta is truly a date-night treat.
Top it with chicken and brussels sprouts cooked with honey, balsamic, and lemon and it becomes irresistible.
And this dinner comes together in just 30 minutes, meaning you get to spend less time in the kitchen and more time with your Valentine!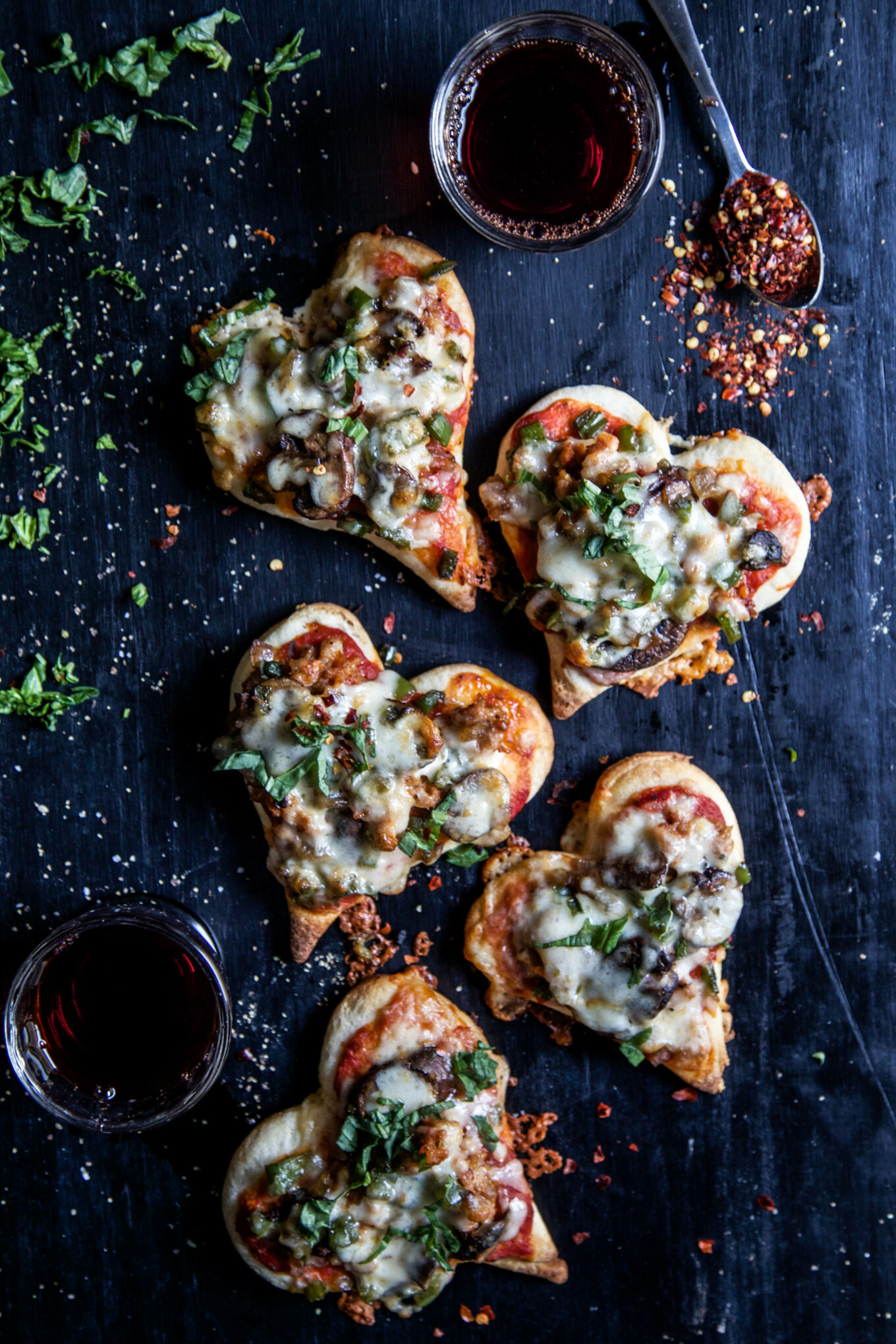 Mini Heart-Shaped Supreme Pizzas
View
If you're looking for family-friendly Valentine's Day dinner ideas, make these adorable, heart-shaped pizzas!
The cute little pizza crusts are topped with chicken sausage, veggies, and smoked mozzarella.
They'll steal the hearts of kids and adults alike.
Naturally heart-shaped lamb chops look so pretty on a Valentine's Day dinner table.
The lamb is well-seasoned then seared for a few minutes on each side.
Then it's served with a delicious raspberry sauce that's made in your blender. It's 25-minute recipe that is sure to impress!
Valentine's Day Charcuterie Board
View
Instead of sitting down to a full meal, why not make a beautiful, Valentine's themed charcuterie board?
Making a dinner out of casually munching on cheese, meat, and bread has love written all over it.
And we can't get enough of the heart-shaped meats and cheeses on the platter!
Forget a box of chocolate. If you want a Valentine's Day dinner idea that will melt your loves heart, make them these chocolate and stout braised ribs.
They're fall off the bone tender and the insanely delicious gravy is almost too good to be true.
This is a truly memorable Valentine's Day dinner recipe!
If you want Valentine's Day dinner ideas that are easy to make, try this pasta.
It's made with Italian sausage (spicy or mild!) and a creamy tomato sauce. The flavor is incredible and it only takes 25-minutes to make.
Balsamic Dijon Beef Tenderloin
View
If you want an impressive Valentine's Day dinner idea, this balsamic beef tenderloin roast has your name on it!
It's roasted in the oven then served with a delicious Meyer lemon gremolata.
Bonus that it is easy to make, too!
When you serve mussels, it feels like a celebration!
Don't worry if you've never cooked mussels before, they're incredibly easy to make. And this recipe incudes a step-by-step tutorial to make it even easier for you.
Serve this special Valentine's Day dinner recipe with your favorite bread to dip in the delicious white wine saue.
Beef Tenderloin Steaks with Herb Pan Sauce
View
Who needs to go to a restaurant for Valentine's Day when you can make this steak at home.
The steaks are first seared then finished in the oven. Then you make an incredible pan sauce in minutes to serve with your juicy steaks.
This is a wonderfully flavorful and easy recipe that is perfect for Valentine's Day.
The chicken is baked right in its tasty marinade then served with a Thai-influenced peanut sauce.
A sprinkle of pomegranate seeds adds a pretty Valentine's Day flourish to the plate.
If you love these recipes as much as we do, let us know with a 5-star rating!
Like these recipes?
Let us know which is your favorite in the comments below!
A few Valentine's Day desserts
No Valentine's Day dinner s complete without a sweet treat at the end. Try one of these desserts to finish your special dinner.